I lived in Oregon longer than I have lived (and probably ever will live) in one place.  I have a lot of stories from Oregon, lots of fond memories, several devastatingly sad stories (which I will not burden you with) — in other words, forty years of life.  Unfortunately, I've lost much of my photo and video record of my time in Oregon.
The Birds of the United States and Canada video portfolio of bird species includes many species from Oregon.  The Birding the West series of videos (see the North America portal page on this website) has extensive material from Oregon in volumes 3 - 10.
There are four photo galleries which support this site; Oregon (general travel), Oregon Birds, Oregon Flora, and Oregon Fauna.  A video of the wildflowers of the Columbia Gorge is also hosted here.  The collection is extensive.
PORTLAND - THE GREAT ECLIPSE
August 21, 2017
It was said that the eclipse was the thing to see, that there would be traffic jams which lasted for a day, that it would be chaos.  But since we were in the northwest and wanted to see friends in Portland we drove down to see them the day before the eclipse.  Extremely light traffic.  A great time was had with friends and as I sat on their balcony before sunrise on the day of the eclipse I noted that there was practically no traffic on the freeway bridges.  After a leisurely breakfast we all walked over to the Tilikum crossing, a mass transit - bike - and people strolling bridge across the Willamette River.  (As we would say when I lived in Portland, its Willamette - Damn it, in response to the pronunciation of outsiders.). I was not interested in the eclipse as much as I was interested in the people watching it.  I have posted the images from that day to the Oregon Photos page.  We left town, heading back to Olympia, Washington, at about noon - still no traffic.  We heard later that the traffic jams did arrive eventually and that they were very bad.  For us, it turned out to be a lark, a nice visit with friends, and some lite people watching.



BIRDING WITH FAMILY AND FRIENDS
About thirty years ago (1980's) a Mongolian Plover was sighted on the mud flats of Bandon, Oregon. "Everyone" tried for it and most saw it. I wasn't able to try until more than a week after it was last sighted.  I was a chaser in those days and this bird would, among other things, be good for my list. Bandon is a good day's drive from Portland.
Whenever possible I would take the kids on my birding adventures (the trauma of it all may be why none of them are birders). On this occasion I took my three year old daughter, Bethanne.  We drove down on Friday afternoon/night so "we" could catch low tide on Saturday morning. We slogged out through the mud and found the bird. I took the mandatory photographs and settled in to watch a beautiful bird for a while.
What I remember as vividly as the bird is the difficulty I had keeping my binoculars on it. Seems my daughter in her little red coat and little red boots kept tugging at my pants saying, "Daddy, this place stinks, I want to go home."  So home we went, I would have liked to watch longer, try to get closer, etc. etc. But family comes first, even when they don't appreciate a good dump, sewage pond, or mudflat.
On another occasion, she and I were tromping through the woods on Sauvie Island near Portland. We were in quest of one of the lakes which are completely surrounded by woods, a location not typically birded by others. Hope springs eternal and there was always the possibility that something rare would be there.
As we came up on the lake a flock of thirty or so ducks flushed. I figured they would be back so we found a log to sit on and proceeded to wait.  We spent our time performing the normal transactions of a family, playing "I spy" ("I see something and you have twenty questions to guess what it is."), and trying to guess kindergarten riddles. As we waited she became more and more excited, when I asked she said she could hardly wait for the ducks to return. Sometimes she would wander a few feet away to see a different patch of sky.  She had that gleam in her eye -- the one that I was getting to know and would know well in the years to come.
Finally, the flock flew in, circled the lake a time or two and came in for a sliding landing.
My bins were up, nothing unusual in the flock but it was pretty. Just before the ducks settled into the water Bethanne jumped up, clapping her hands as loud as possible, and screamed "Boo Ducks  Boo". As the flock took to the air she danced in a little circle clapping her hands and laughing.
She stopped, stood in front of me, with her hands clutched in front and, laughing, stared into my eyes until I laughed too.   We walked back through the woods, talking about how she had planned her little intervention, and we headed home.
Bandon is a great spot on the southern coast of Oregon. Its mud flats have attracted Mongolian Plover, Curlew Sandpiper, the typical array of western sandpipers and plovers, and several years ago a Great Knot.
The Great Knot was proving elusive at low tide, it was on the mud flats somewhere. At high tide, however, it was a predictable bird. At high tide it would come in to rest on a few rocks between the jetties. Birders from all over North America had come to see this bird.
When I arrived, there was a long line of birders standing, sitting, reading the paper -- all sorts of things -- along the south jetty. I took my place along the jetty, set up my scope and waited for the water to rise.  Rise it did, the Great Knot flew in and everyone was happy. Within half-an-hour of the bird's arrival most of the birders had left.
How different that experience was from that I had north of the Article Circle along the Dempster Highway in Canada, where the shore birds were constantly calling from their perches on the tops of bushes and small trees - and there were no other birders about.
It is very unusual for me to see a life-species in the US and Canada these days but every once-in-a-while I do and it is an event I often recall with great satisfaction.  Two decades ago I had the opportunity to see two lifespecies in the US, on the same day, and in Oregon.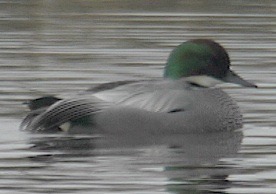 A Falcated Duck had wandered from its normal habitat in Asia and had dropped down in the small Oregon town of Coburg.  I had ignored its existence for over a week but then I heard that a Northern Hawk-Owl was being seen in Bend.  It was too much for me, of I went on a long day which netted video of two life-species.
At the first site, someone (people were coming from all over North America to see the bird) had pulled down a fence around a pond to get a better view - I happened along a day or so after that event and the owner was not pleased with birders in general by that time.  We worked it out, but neither of us remembers that event with satisfaction.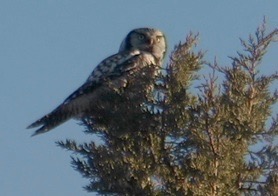 On to Bend, where I encountered birders from all over the West Coast.  They were minding their manners, but the bird was being seen in a 5-acre lot subdivision and some of the home owners were getting annoyed by the presence of "outsiders".  We stayed on the road and chatted with home owners who stopped to look through the camera - turns out that those who were upset had had people romping across their property without bothering to ask for permission.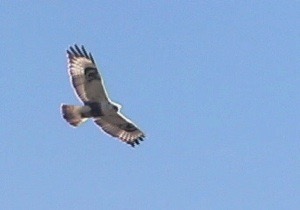 Both events remind me of why I love to bird in the wide open spaces and not in cityscapes of any kind.  Friends would say that I am simply a curmudgeon (a term I learned from Rebecca, who uses it to describe herself at times).
The birding community is lucky enough to have its share of complex identifications to grapple with, flycatchers, hawks, and gulls to name a few.
One of the most annoying of this set are the hawks, like the gulls they are plagued by intergrades, multi-year molting patterns, and color morphs.  All adding up to a frustrating time on occasion.  It doesn't get much easier when you add albinism and other pigment variations (like the Red-tailed Hawk pictured to the right from near Madras, Oregon).  How can something so big be so difficult at times?  I wish I could get some satisfaction from keying an oddly colored and marked hawk but I don't.  Oh my, oh my.
Seeing a nicely plumaged hawk or eagle, on the other hand, is immensely pleasing to me - there is something definitive about a bird of that size which clearly knows what it is.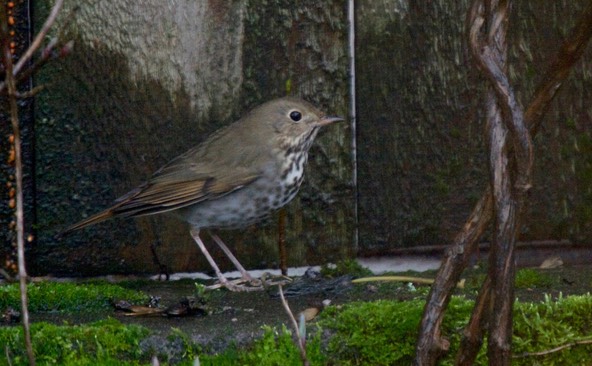 In 2008 I was anticipating our move to New Mexico and began to think seriously about the bird species I would be giving up as frequent guests.  Golden-crowned Sparrows and Varied Thrushes in the backyard are not likely to occur in New Mexico - I knew that I would miss that.  It turned out, however, that Hermit Thrush would be an occasional visitor to our yard in New Mexico as well.  But as I noted at the time: the Hermit Thrush is found in both Oregon and New Mexico.  And, like the Junco we will be seeing a different race - the Pacific population (shown right in a photo from January 4, 2008) vs birds of the Interior West population.
At one time I knew a predictable spot for Greater Sage Grouse.  This is how I remember one of the outings to see them.  It is 4 a.m. in March.  I am parked on a dirt road near Malheur National Wildlife Refuge in Oregon.  I would be able to see my breath if it were light. As it is, our breath forms thin veneers of ice on the windows.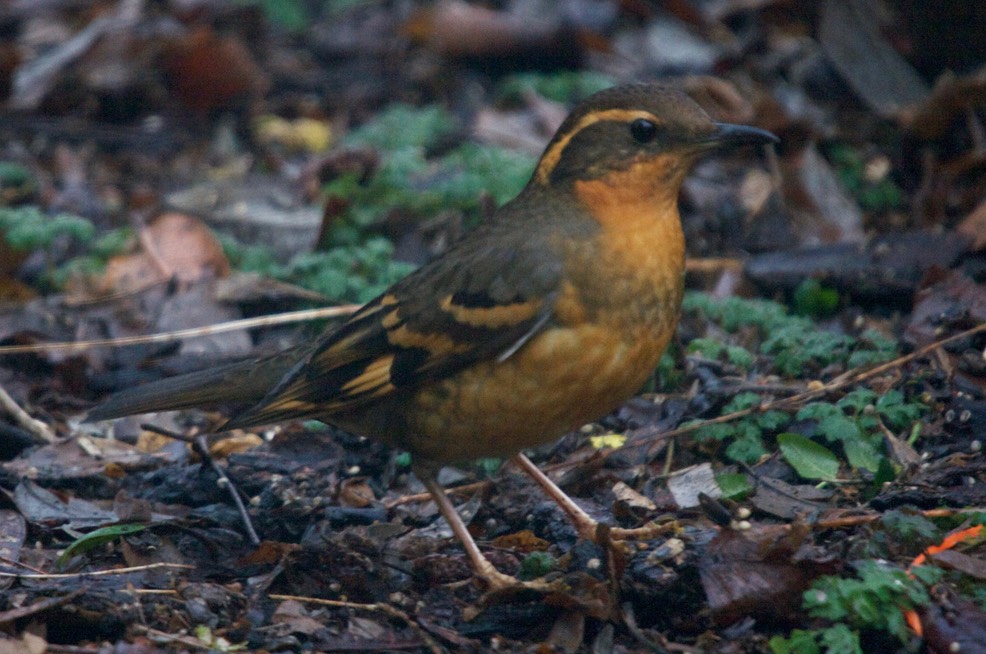 Once again, we have checked the cameras in the dark.  As soon as there is any light we will start taping the sounds outside our windows.  The sounds are close, I know from previous visits that there are Sage Grouse just feet away, that they are strutting about fanning their tails and booming.  This is my favorite Sage Grouse lek and I enjoy these moments as much as the lighted ones.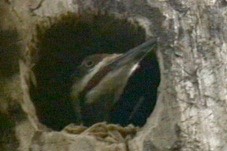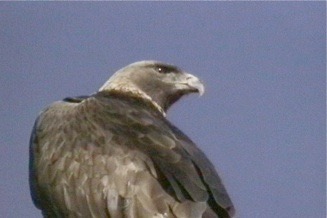 Now, I see with my minds eye.  The sounds are as magical as mass in St. Mark's Cathedral on a winter morning or the echoes of our voices in the Hypogeum on Malta or the mechanical sound of prayer wheels and flapping flags in the Himalaya or the call to prayer from a minaret in Turkey.
The dark turns to barely discernible shadows and then to distinct shapes.  Colors congeal from the air.  Vivid, somber, subdued colors.  Soon the show and the taping will begin.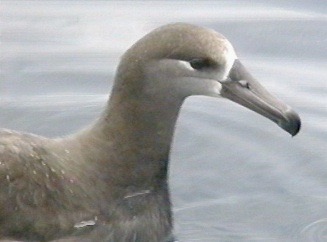 In Oregon there are both of the common North American Eagles -- Bald Eagle and Golden Eagle.  It is a great treat, for instance, to hike on Sauvie Island during the winter when the fog sometimes lies heavy on the earth.  You can hear the Bald Eagles calling periodically, then out of the midst a tall snag appears with three or four of the giant birds -- a few steps away and the snag and the birds are gone.  Sauvie Island is a wonderful place to birdwatch, I spent a day there watching the Pileated Woodpecker (right) excavate its nest.
In Eastern Oregon Golden Eagles (right) can often be found on power poles - easy to see but not overwhelmingly "natural".
Of all of my birding experiences, pelagics are my most limited.  In all, I have been on fewer than ten pelagic trips (spread over California, Oregon, Washington, and British Columbia).  The Black-footed Albatross, right, is a fairly common bird off of Oregon and Washington. 
There are, of course, seasonal and latitudinal variations in the birds found on pelagic trips and there is a variation in species linked to ocean topography.  Along the coast of Oregon and Washington, the topography issues are generally associated with how many miles you go off shore.
MT. HOOD
A report from the mid-1990's:  Last weekend I was hiking on Mt. Hood, Oregon trying for photographs of late season flowers and raptors.  The Mazama Trail which I went up is on the west side of the mountain.  There are a number of forest fires raging on the east side of the mountain at the moment, so the air was full of smoke.
What is normally a moderate walk, 7+ miles with 2,000 feet of elevation gain turned a bit trying because I was very dehydrated.  Not quite sure how that happened but it did, and is reason to give pause ---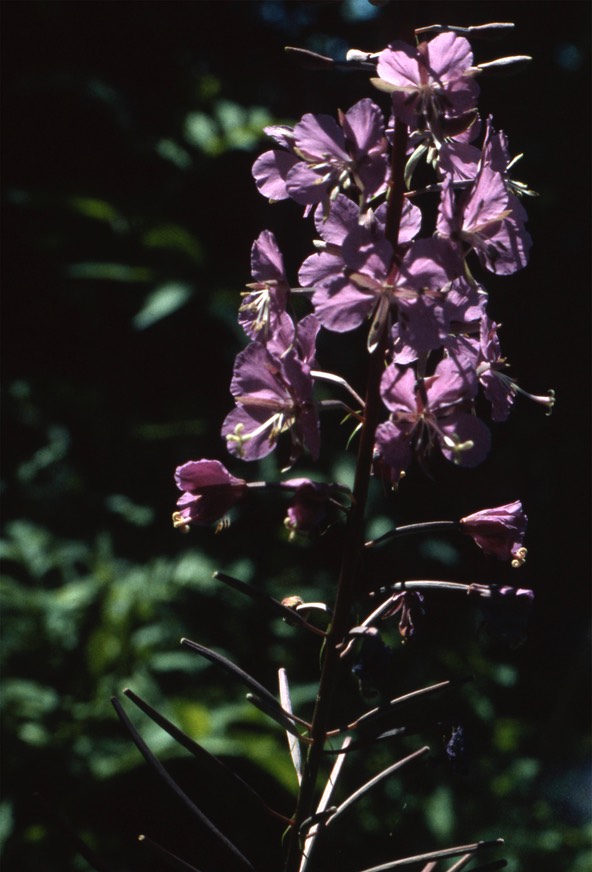 Fireweed is just going past on the Mazama (photo right) now.  But these flowers reminded of videotaping in the fall on Brier Island, Nova Scotia (Canada).  
In late July 2007 we were still hiking on Mt. Hood.  One Sunday (late July 2007) Rebecca and I took a stroll up to timberline on Mt. Hood (Oregon).  We chose the north side, hiking up from Cloud Cap, to avoid some of the crowds.  When you break the timberline beautiful vistas burst out in every direction.  It is an extraordinary place with views of Mt. Adams, Mt. Rainier, and Mt. St. Helens to the north.  At this time of year there were many flowers in this area, including dwarf lupin and a sulphur-yellow buckwheat.
This was to be a day spent at Elk Cove, photographing wildflowers but the trail was completely gone at Elliot Creek.  Floods had scoured the ravine so that 100 foot slopes of loose aggregate greeted you on both sides.  I have crossed this type of stuff before and it is very dangerous - it is like walking up an unstable sand dune with large boulders waiting to be dislodged by your movement - and no way to get out of their way in a timely manner!  (For once, I agreed with a Forest Service assessment that the trail was closed and the ravine was too dangerous to cross.)  So we settled for hiking the other way.  A beautiful day but not much in the way of wildflower photography.
 COLUMBIA GORGE
The Pacific Northwest of the lower 48 is a great place for flowers.  In the summer of 2006, I noted that: The flowers (Balsamroot to the right) in Oregon are about over for this calendar year.  Sure I will have roses which bloom into February, but they really are the anomaly.  Wildflowers are pretty much gone, but by March 2007 they will be back on the menu and when I am not working the birds I will be working the flowers.  The diversity of flora is staggering, even greater than insects (which can drive a good identification expert mad), and my admiration of people like Humboldt expands by leaps and bounds every time I venture away from the flora here - which I struggle to even master to the least degree imaginable - I am in a world of amazing difference.  I observe without knowledge, wondering about what I do not know.
Most trails in the Gorge are up, turnaround, and down -- there are very few flat trail sections in the Gorge.  A nice walk with two waterfalls - one which is truly exceptional and "lunch" which includes dried mangos may be on the agenda - but nothing flat.
When the rainy season sets in I enjoy eating my breakfast by the window while watching the local birds (House Sparrow, Golden-crowned Sparrow, White-crowned Sparrow, House Finch, Song Sparrow, Dark-eyed Junco [Oregon and Slate-colored], Common Bushtit, Black-capped Chickadee, and Spotted Towhee).

In the northwestern US there is a weather phrase, "sun breaks" which is not commonly used elsewhere.  It simply means that the sun has, or is expected to, break through the clouds for some duration of time.  It is the phrase which I associate with Oregon's weather.  "Nice" is what I associate with the weather in Queensland, Australia.  When I was there, that was the weather report (day after day) -- "Today it will be nice."  What a glorious and succinct weather forecast - just like "sunbreak".



On February 12, 2008 I took advantage of one of those sun breaks -- when it was almost nice -- and went to the Columbia Gorge to photograph waterfalls.  Multnomah Falls (in part) is shown above.
VAUX'S SWIFTS - PORTLAND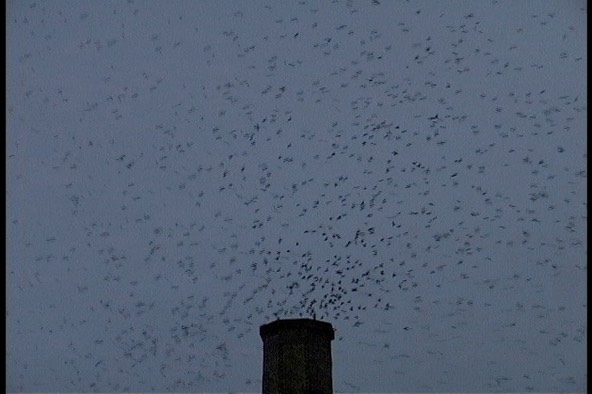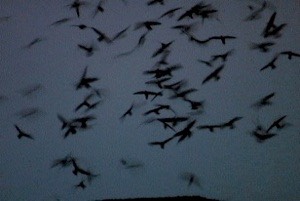 In a month (September 2007) or so, we will gather blankets and chairs together, pack an extraordinary picnic lunch and head for a local school.  We will arrive in late afternoon, pick our spot on the lawn or the hill and sit back for the annual swift show. Every year, in migration, Vaux's Swifts roost in the old furnace smoke stack at Chapman School (Portland, Oregon).  Hundreds of people gather each night for a couple of weeks to watch the show.  It is an "event", people are laughing and talking, kids are rolling down the hill, and frisbees fill the air.  As dusk approaches the swifts begin to congregate until there are thousands swarming in a vortex above the stack.  It is like a festival, people are pointing and laughing - being happy - swifts are swirling above, and the light fades to night.  The vortex of the swift tornado tightens and widens until finally they plunge into the stack amidst ahs of delight.
I have no good photographs of swifts.  Good being defined here, as nice and crisp (forget about framing and all that).  They simply move to fast.  The video is different, it is not "crisp" but it depicts a maelstrom of wings which grows and collapses in an instant.  It is quite a show, I can't wait for this year's picnic at Chapman.
MALHEUR NWR AND FIELDS
One of the mecca sites for Oregon birders is the small town of Fields in the far south of Oregon, just a few miles from the Nevada border.  Fields has a gas station-store-restaurant-motel, a few homes, and a pond with trees.  It is a place where they have opened the restaurant for me so I could eat when I arrived late at night.  Sage brush, mountains, and valleys are all around.  To the north is Steens Mountain.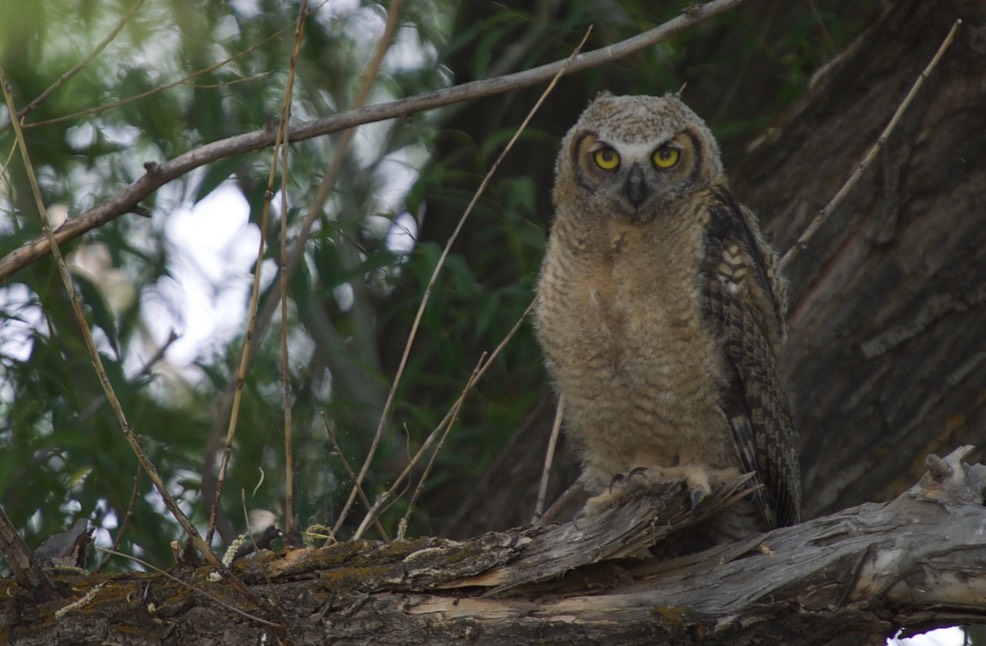 Fields is one of those desert migrant traps.  People who are not familiar with Oregon assume that it is covered in huge forests and is wet all the time.  To the west of the Cascade Mountains there are still large forest areas and during the winter (which in at least one of the years I have been here lasted 11 months) it is wet.  On the East side of the Cascades there is a varied geography with tall Swiss like mountains in the northeast of the state and sage brush desert in much of the rest.  In the midst of the sage brush, in the south, sits Fields and its trees.  It can be depended on for vagrants and a clutch or two of young Great Horned Owls every year.

CABIN LAKE CAMPGROUND NEAR FT. ROCK
I am use to finding Clark's Nutcracker's high on the slopes of the Cascade volcanos.  The weekend before last I saw several on Mt. Hood, for instance.  But... you can also see them at Cabin Lake Campground near Ft. Rock in south-central Oregon.



As far as campgrounds go, Cabin Lake is your basic primitive site -- fire rings and pit toilets.  It is dry and hot in the summer and a place that you can be snowed on in the winter.  It is, however, a major draw for bird photographers in Oregon because there are two blinds with small water features near the campground.  Water draws birds in this habitat and I have passed days siting in the blinds video taping and photographing crossbills, nuthatches, warbler, tanagers, finches, woodpeckers...  If you travel to this site, be sure to bring water - the bubblers may or may not be working and a water feature without water isn't even good for a dust bath.
There is a significant amount of literature on the species and subspecies of Crossbill and their close relationships with conifers.  It is a fascinating study in population, adaptation, interrelationships, and movement.
Here in Oregon the Red Crossbill is much more common than the White-winged Crossbill and can generally be found in the more mountainous areas of the state.
When I was last at Cabin Lake a number of Red Crossbills were coming into the bubbler to drink and bath.  It is quite amazing to watch a species from three or four feet when normally you are craning you neck to see them in the tops of the evergreens.



I know of four behaviors that are ascribed to birds in their constant battle against mites, ticks, and such.  Preening (in part), water bathing, sand dusting, and anting are all said to be used by birds to rid themselves of pests.  Certainly it is known (or assumed) that these behaviors have other purposes -- the oiling and cleaning of feathers in the case of preening, for example.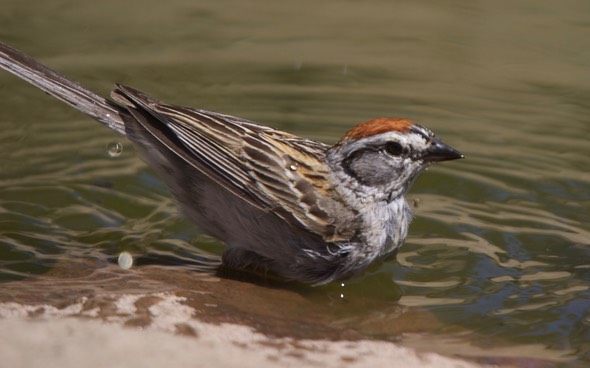 I have never rejected the notion that there just might be a bit of pleasure seeking in these behaviors as well.  I do not regard as supportable any human-centric argument which is premised on animals not feeling emotions.  To the contrary, there is much evidence that their thought processes and emotive responses are complex.
Certainly behaviors are complicated and often occur for myriad reasons.  I am ready for a shower at the moment and lament that (being of European descent) my ancestors -- until two hundred years ago or so -- did not understand that bathing is both pleasurable and hygienic.  But at last, we are catching up to the birds (like the Chipping Sparrow at Cabin Lake Campground to the right).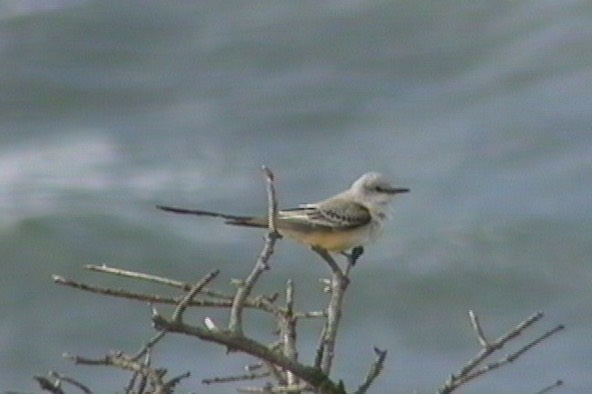 OREGON COAST
The Oregon coast is an excellent birding area.  Not only does the coast offer great pelagic tours for numerous species of shearwater and albatross but it also attracts a number of vagrant species.
I have taped a number of these vagrant species, species like: King Eider, Great Knot, Mongolian Plover, Dusky-capped Flycatcher, Long-tailed Duck, Hooded Oriole, Garganey, and Scissor-tailed Flycatcher (yes, that is the Pacific Ocean in the background).
This photograph was captured from some of my earliest video (this from just north of Newport).  It was a rather dramatic event, the water was swirling and crashing on the rocks at the bottom of the sea cliff and just below me this little flycatcher which should have been in Oklahoma was flying about.  As might be expected a number of birders were there, all of us getting our sightings in and our boxes checked.  These events are often like holiday, with people showing up that haven't seen each other for a while, lots of laughter and chatter -- and on a day like this one, lots of satisfaction.
The Oregon Coast includes more than the Pacific Ocean.  On several occasions I visited the Tillamook Air Museum (Tillamook).  In November of 2007 I made a visit and noted that I hopefully had the "taking photographs of airplanes bug" out of my system for awhile.  In sharp contrast to my photography of things natural, I am often drawn to mechanical objects as topics of interest.  In the galleries you will doubtlessly run across airplanes, tractors, and cars - mostly of the old variety (see the Air and Ground website).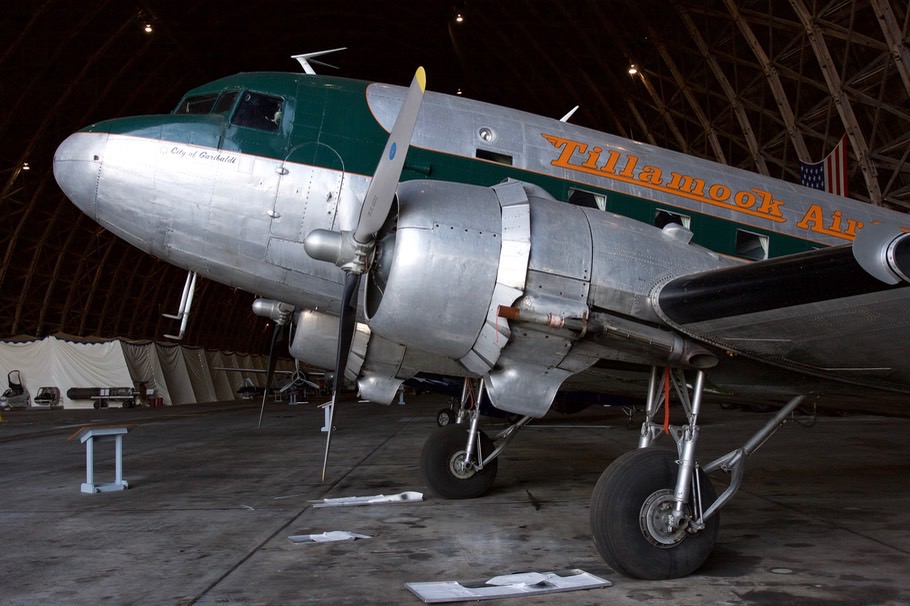 Tillamook Air Museum, Tillamook, Oregon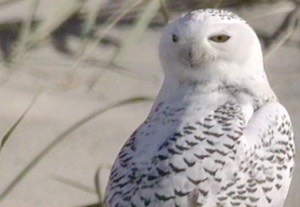 The museum at Tillamook is located in a WW-II Blimp Hanger and covers about 7 acres.  Almost all of the aircraft on display are flightworthy.
Now on to more manly subjects for photography -- like carousel horses.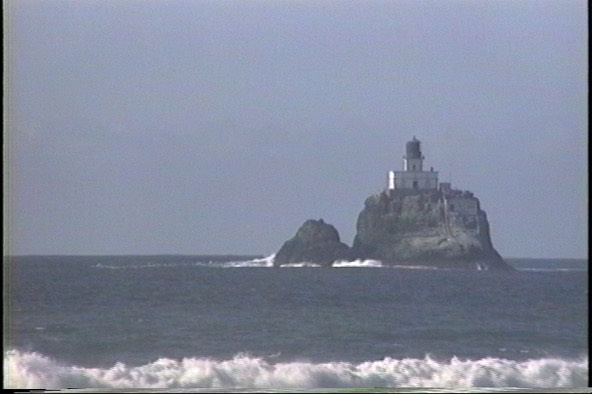 On January 28, 2008 I posted about an amazing insight that I had: "The Oregon Coast is a premier birding locale.  Not only do significant numbers of shorebird species visit sites like Tillamook but there are also pelagic trips to be made from the same bay and the occasional eruption from the north of species like Snowy Owl or from the south like Hooded Oriole.  Throw in the maddening interbreeding of a number of Gull species and you have exciting times -- even without the wind and crashing waves."
The lighthouses which line the coast are more than a backdrop for a birding sea-watch, they are fascinating to many people (including myself).  The stories and photographs of waves crashing over the top of lighthouses like that at Tillamook (right) are harrowing.

EASTERN OREGON
In the early 2000's when we were both still working, Rebecca and I spent Friday through Sunday in eastern Oregon - a very varied weekend.
"Friday we drove to the east, to get away from the lights of Portland and eventually found a spot by a wheat field near Biggs Junction.  It gave us an unobstructed view of the northeast across the high plateau.  After a fitful sleep in the Element we awoke at 3:30 a.m. to start our viewing of the Aurigid Meteor Shower.  I have never been a huge fan of Meteor Showers - I have to stay up late or get up at odd hours (when there are few birds out) to watch faint streaks zip across the sky - exciting but of limited value for me.  Saturday in the hours before dawn we were treated to mini-fireballs (not those fine-point streaks of light), usually not of long duration but spectacular. Something worth remembering."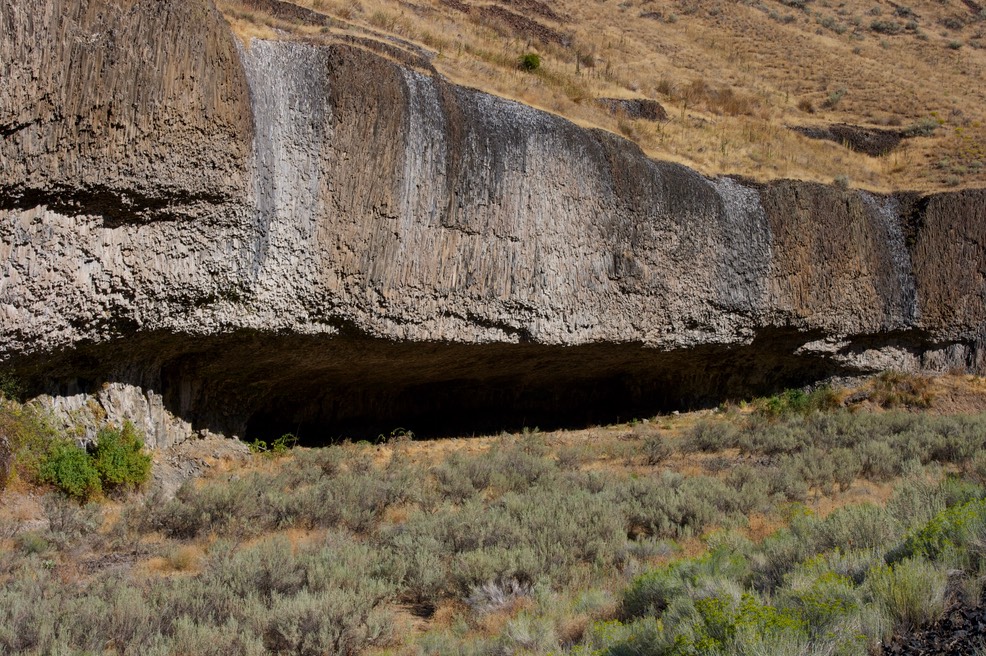 Saturday we spent wandering the John Day country, stopping at fossil beds and visiting the National Monument sites.  We camped in the junipers, a quite and secluded spot which was perfect for a bottle of wine and a long night's sleep.
Sunday we were off to a hike up Sutton Mountain where I saw a Western Rattlesnake (Crotalus viridis) or more precisely the sub-species North Pacific Rattlesnake (C. v. oreganus).  The Western Rattlesnake complex is divided into a number of sub-species (or species) depending on your inclination.  I have seen hundreds of rattlesnakes in my life, but very few in Oregon - this is probably only the third I have seen in this state.  It did not cooperate enough for a picture but added a bit of excitement to the early part of the walk.
The John Day area is a geologic hodgepodge with basalt like the picture above and ash layers where many fossils have been found.

LESLIE GULCH
Leslie Gulch is along the eastern border of Oregon.  My son Jon and I camped in the Gulch in mid-June 2003.  I had just purchased a Honda Element and this was our first venture into the wilds in our new car.  It still had dealer's plates on it.


THE SISKIYOUS
To get out of western Oregon you have to cross mountains.  Going east you have to cross the Cascades, to the north there are eventually more Cascades, and to the south there are the Siskiyous.  In January 2008 I noted this about the Siskoyous:  "On my recent trip to and from the southwest I traveled across the Siskiyou Mountains in southern Oregon and Northern California.  The Interstate is usually closed at least once each winter because of snow and ice.  I was lucky both going and coming, the roads were clear (although icy in spots).  On my return trip the snow hung in the trees giving me the perfect opportunity to pull over and photograph some of those high contrast sights."


ALVORD DESERT & STEENS MOUNTAIN
North of Fields, Oregon, the Fields-Denio Road runs between the Alvord Desert (on the east side of the road) and Steens Mountain (on the west side of the road).  The Alvord Desert, pictured below, is a dry lake bed - a playa - created by the combined rain shadows of the Coast Range, the Cascades Mountain, and Steens Mountain.  The Alvord Desert is only twelve miles long and seven wide but it is impressive none-the-less.  Perhaps because it is flat - as in level.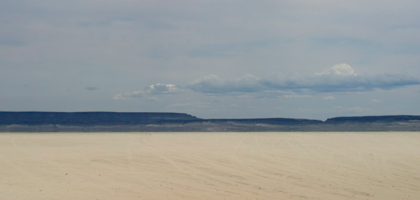 The Alvord has a cold desert climate, with an average precipitation of six and a half inches, an average high temperature of 63° (ranging between average monthly highs of 40° and 90°) F., and an average low temperature of 38° (ranging between average monthly lows of 22° and 59°) F.  There are a number of hot springs along the western boundary of the dry lake.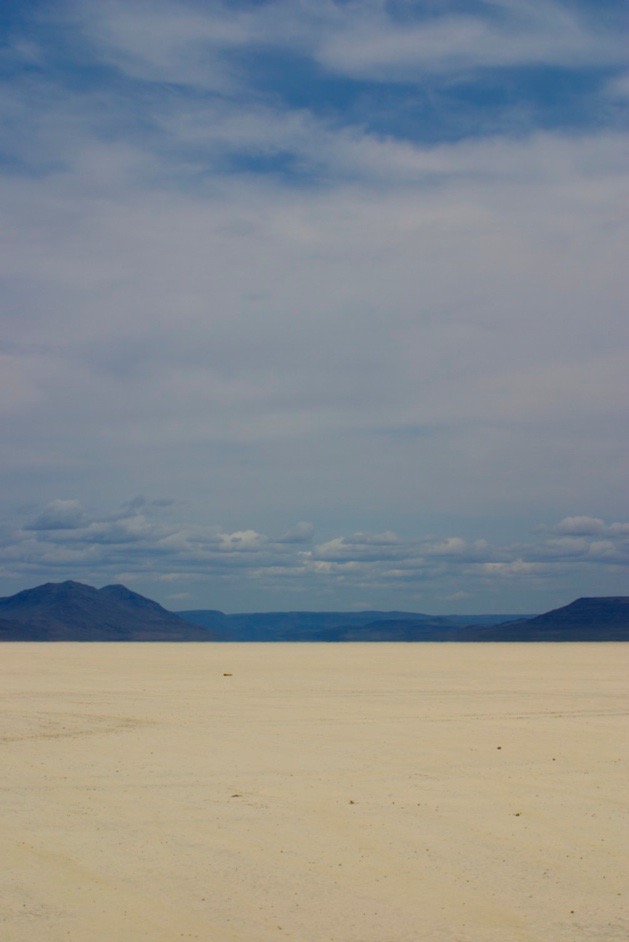 These pictures were taken during June 2003, on one of many trips I have made to the area.  The dry lake is the perfect place to let your young son drive around in circles.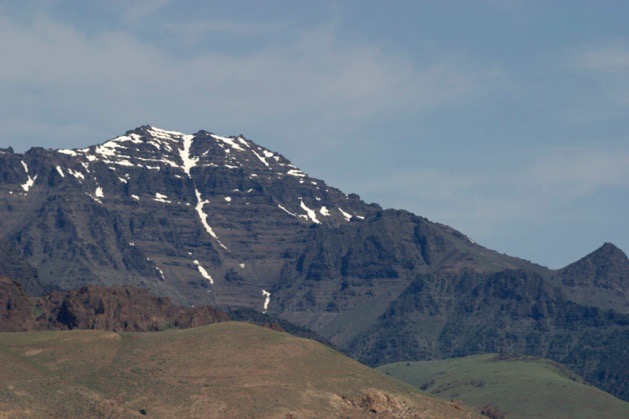 Even in June, Steens Mountain which is across the road has snow and the road to the summit (access from the west side of the mountain) may be blocked.  Steens Mountain rises to an elevation of 9,733 feet, about a mile higher than the Alvord Desert.  Although sometimes confused as a mountain range (it is fifty miles long, north to south) it is actually one mountain.  One of the valleys which flow down from the summit ridge, to the west, is pictured below.