I have traveled to and through Utah many times during my life, in total I have spent quite a bit of time there.  The landscape of Utah is very beautiful - to bad that so many people who live there want to destroy it.
Photographs from Hovenweep National Monument and myraid other pre-European sites are found at my www.ancientpeoples.org website, on the Colorado and Utah pages.  The general interest photo gallery: Utah includes photographs from Cedar Breaks National Monument, Bryce Canyon National Park, Capitol Reef National Park, Dinosaur National Monument, Arches National Park, Natural Bridges National Monument, the portion of Glen Canyon National Recreational Area which is in Utah, the Valley of the Gods in the southeastern part of the state, and Vernal.
ARCHES NATIONAL PARK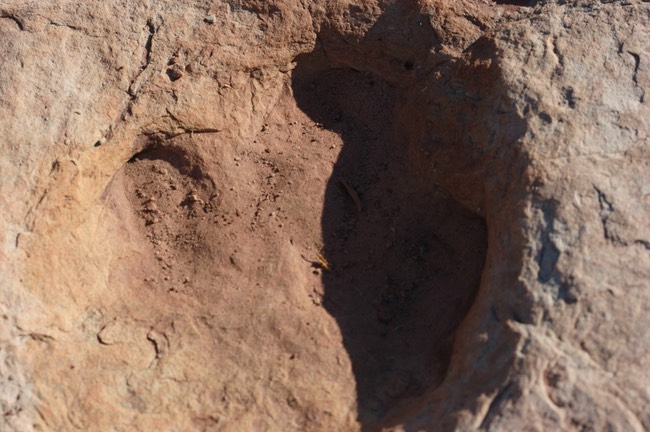 While ambling along a 4-wheel drive road in Arches National Park we came upon a small sign.  Turns out it described Therapod and Sauropod tracks which were near by.  It brought back memories of a trip my son and I took to Queensland.  We added a little dinosaur track viewing to that trip and stopped to visit two dinosaur museums.  Over my desk, there hangs a poster of the Fossil Marine Reptiles of Australia which he bought - it is waiting for him to have in his own home.
The photograph to the right is a strong reminder of how important natural history has been in my life - many times it has been the focal point of shared experiences which have strengthened and enriched my relationships.
HOVENWEEP


Hovenweep, see links above, is located in two of the United States (Utah and Colorado).  It is a complex of sites which date from 1200 to 1300 AD and represents excellent stone work.

Hovenweep is one of those jewels where you can wander by yourself, especially if you are at one of the sites away from the visitor center.  I have often stopped in my tracks as I walked among these ruins - overwhelmed by something that I am not able to articulate, it is as if these places combine all of the issues of the passage of time, life, humanity, and .... all into one succinct little package which I am unable to understand - even more to the point, I am unable to grasp the fundamental issues at question.  Humbling is such an understatement.
On April 30, 2008 I had one of those odd experiences which creep into life on occasion.  I was in southeastern Utah, hungry, and low on gas, so I stopped to get gas and a toasted cheese sandwich at the gas/diner which was town. The owner put the sandwich on the grill and invited me into her jewelry show room.  It was full of all types of jewelry, from buckles to earrings - just about every treatment of turquoise and silver that I could think of - but then...  Her daughter (a middle aged woman) came in and the mom started the same type of pitch she had been giving me about the jewelry only now it was -- her daughter was very hard working, an excellent cook, and very attractive (didn't I think so -- yes I did).  "But I don't think I can tempt you."  "No", I said looking closely at the necklaces in the case in front of me, "not today."  "Oh well" she said and her daughter left the room and I was left with a feeling that I was in a very dry version of Deliverance. 
VALLEY OF THE GODS
On April 30, 2008 I stopped at the Valley of the Gods which is roughly 10 miles northeast of Mexican Hat, Utah.  I took the 17 mile drive through the area which is administered by the U.S. Bureau of Land Management.  There were few people there and the scenery was wonderful.  At this time of year the temperature ranged in the mid-70's (F) and the blue of the sky was punctuated with a few white clouds.



From the Valley of the Gods, I drove on through the Moki Dugway, Dirty Devil River Canyon of Glen Canyon National Recreational Area, Hot Springs, Grand Gulch, and Waterpocket Fold in Capitol Reef National Park.
CAPITOL REEF NATIONAL PARK


BRYCE CANYON NATIONAL PARK
On May 1, 2008, I was in Bryce Canyon National Park - one of many visits to the area.